New OBGYN making clinic visits, performing surgeries at Norton County Hospital
Information is courtesy of Lisa Herman, The Norton Telegram and Obstetricians & Gynecologists, P.C.
March 2017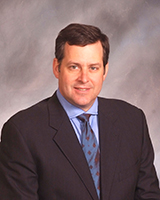 In an effort to add more options for patients, and lessen the need to drive long distances to receive quality health care, Norton County Hospital has proudly welcomed Dr. Todd Pankratz, MD, FACOG (Fellow of The American Congress of Obstetricians and Gynecologists) to its specialty clinic medical staff. Dr. Pankratz specializes in obstetrics and gynecology, and his addition has added to the OB care already offered at Norton County Hospital.
Born and raised in Henderson, Nebraska, Dr. Pankratz completed his primary education in 1984. He attended Hastings College in Hastings, Nebraska, and received his Bachelor of Arts degree in May 1988. After receiving his doctor of medicine degree from the University of Nebraska College of Medicine in Omaha, Nebraska, in May 1992, he served his residency training at Truman Medical Center/St. Luke's Hospital in Kansas City, Missouri. After completing his residency training in June 1996, Dr. Pankratz began private practice at Obstetrics and Gynecology Associates of Iowa City, Iowa. He remained in Iowa City until September 1998, when he returned to Hastings.
Dr. Pankratz began his practice in Hastings in October 1998, and he has been a practicing obstetrician and gynecologist at Obstetricians and Gynecology, P.C. for the past 18 years. Certified by the American Board of Obstetrics and Gynecology, Dr. Pankratz is a Fellow of the American College of Obstetrics and Gynecologists. He is married to his wife, Dr. Jessica Meeske, who is a partner with Pediatric Dental Specialities in Grand Island and Hastings. Drs. Pankratz and Meeske have two children.
Dr. Pankratz specializes in gynecological exams; an array of gynecological surgeries; prenatal and birthing services, including high-risk and multiple birth pregnancies; infertility treatment; medical weight loss; and incontinence treatment.
Dr. Pankratz plans to see patients every first and third Monday of the month at Norton County Hospital. To schedule an appointment, please call 800-742-3305. You can learn more on our Outpatient Clinics page.