Hospital Information
Norton County Hospital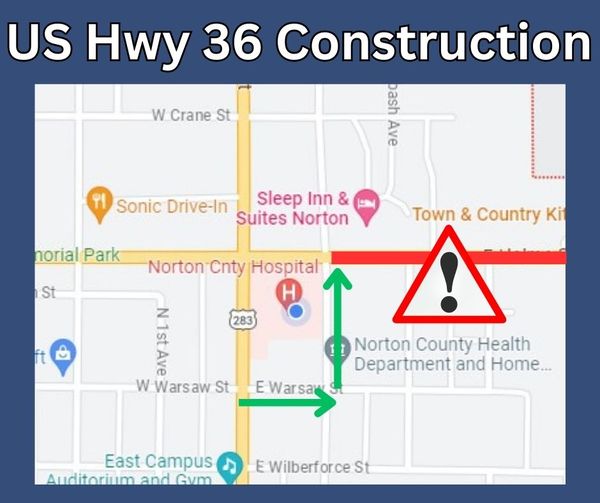 102 E. Holme
P.O. Box 250
Norton, KS 67654
Phone: 785-877-3351
Fax: 785-877-2841

Please be advised the city will begin construction on Highway 36 beginning this Monday, June 12th. Eastbound traffic will be detoured around, while westbound traffic will be carried through the work zone. The alternative route to use the north parking lot for Specialty Clinic, ER Department, and Business Office is shown on the map. We are hoping to not congest our south parking lot, as it is used by our Medical Clinic staff and patients!
Our main entrance, emergency room and outpatient clinics (including specialty clinics) are located directly off Hwy 36. Visitors and patients can park in the lot between the hospital and highway. Enter the main entrance and emergency room through the covered sidewalk. Enter the outpatient clinic just west of the main entrance/emergency room. Look for an "Outpatient Entrance" sign.
Direct Phone Lines
Below are the most common department needs from callers. If you would like to contact the department you need directly, we've included those direct phone lines below.
Diagnostic Imaging (Radiology): 785-874-2209
Laboratory: 785-874-2210
Nurses' Station: 785-874-2208
Outpatient Nursing Services (Infusion, Wound Care, etc.): 785-874-2219
Rehabilitation (Physical and Speech Therapy): 785-874-2222
Clinic Information
Norton Medical Clinic
807 N. State St.
P.O. Box 408
Norton, KS 67654
Phone: 785-877-3305
Medical Records Fax: 785-877-3076
Main Clinic Fax: 785-877-3072
The clinic parking lot and entrance are located off Hwy 283. If you are turning from Hwy 36, go south on Hwy 283, and look for the large, white Norton Medical Clinic sign. Visitors and patients may park in the lot south of the clinic entrance.
Education Contacts
Norton County Hospital and Norton Medical Clinic take pride in helping patients and their families with health education. We also offer a variety of classes for the public. Contact the individuals below via email or call 785-877-3351 for more information.
Car seat installation/checks - Klare Bliss, Dan Dole or Kelsee Hildebrand
Stop the Bleed - Sierra Wahlmeier
Do you have a grievance to report to our facility?
You can download and complete the Grievance Report Form.