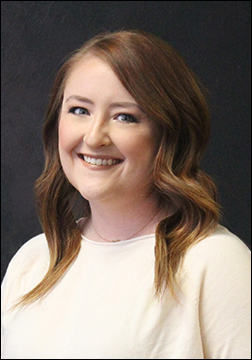 Kayla Broeckelman manages the Respiratory Therapy department at Norton County Hospital. She started working at NCH in October 2018. Kayla is from New Almelo, Kansas, and she is a graduate of Norton Community High School. In 2011, she graduated from Northwest Kansas Technical College in Goodland with a Respiratory Degree.
After passing her board registries, she began working at Great Plains Health, North Platte, Nebraska. There she performed multiple job duties, including working in emergent care and trauma situations, managing Intensive Care Unit (ICU) ventilators and patient care, working on the med/surg floor, and providing airway management in the Neonatal Intensive Care Unit (NICU) and cardiac cath lab. She also provided outpatient services such as Pulmonary Function Testing, Six-Minute Walks and Methacholine Challenges. While working at GPH, Kayla was hired as the Chronic Obstructive Pulmonary Disease (COPD) navigator and developed an inpatient program to provide patients with COPD education and resources. Kayla is certified in Basic Life Support (BLS), Advanced Cardiac Life Support (ACLS), Pediatric Advanced Life Support (PALS) and the Neonatal Resuscitation Program (NRP).
Kayla moved back to Kansas in March 2018 to be closer to family and friends. She started working at Citizens Medical Center in Colby but left that position to start a career at Norton County Hospital. She resides in Norton with her husband and two young daughters.
To contact Kayla, call 785-877-3351, or email her at kbroeckelman@ntcohosp.com.