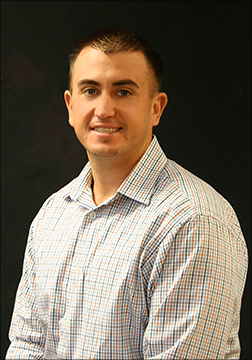 Kellen Jacobs manages Norton County Hospital's Rehabilitation department that includes physical therapy, speech therapy and occupational therapy. He is a native of Phillipsburg, Kansas, and received his Bachelor of Science in exercise science from the University of Nebraska at Kearney in 2006 and Doctor of Physical Therapy (DPT) from Southwest Baptist University in 2009.
Kellen spent his first two years out of college working in an outpatient, skilled nursing and home health facility in St. Joseph, Missouri, followed by three years working for New West/Phelps Memorial Therapy Center in Holdrege, Nebraska. He worked in Cambridge, Arapahoe, Holdrege and Kearney in the home health, skilled nursing, inpatient and outpatient settings. In January 2014, Kellen started working at Norton County Hospital as lead physical therapist and manager of the Rehabilitation department. He works in both inpatient and outpatient settings at NCH.
As Rehabilitation department manager, Kellen oversees the treatment of PT, ST and OT patients, and he is directly involved in patient care. He says that is his greatest joy will always be hands-on treating patients. He enjoys seeing patients of all ages and ability levels. He bases his treatments on the latest research and is primarily a manual therapy-based therapist. He also enjoys working with vestibular/balance patients. Kellen takes continuing education courses in manual therapy, vestibular rehab, neurological rehab and orthopedic rehab.
In addition to his duties at NCH, Kellen spends time performing athletic training services for Norton Community High School. He spends a lot of time with the orthopedic surgeon, as he works side-by-side with him in the clinic and in all the pre-op and post-op care needed to rehabilitate surgery patients. Kellen sits on many committees to try to improve the overall function of the hospital and continue to make it a health care leader in northwest Kansas.
To contact Kellen, call 785-877-3351, or email him at kjacobs@ntcohosp.com.