Norton County Hospital releases more physician details
Learn about Dr. Gaede, Dr. McKellar and Dr. Neill, who are joining the hospital in 2020.
August 22, 2019
NORTON, Kan. – Norton County Hospital released on Friday, Aug. 16 that three physicians have signed contracts with the hospital and will begin employment in summer 2020. In an effort to get to know these new physicians, the hospital is providing more information to the public about the physicians and their families.
Dr. Joshua Gaede
Joshua Gaede, MD, is a native of northwest Kansas, as he was born and raised on a farm and cattle ranch outside of Hoxie. Dr. Gaede said he learned from an early age that hard work and determination are the main traits necessary to succeed in life. This upbringing also ingrained in him a passion for rural living that has driven him to his current role as a family medicine physician.
Dr. Gaede's adult life started with a four-year jaunt as a collegiate athlete. He ultimately graduated with a degree in comprehensive chemistry with an emphasis in biochemistry from the University of Nebraska Kearney. From there, his passion for the rural way of life and rural medicine came together as he attended the University of Kansas School of Medicine, Salina campus.
Following medical school, Dr. Gaede went on to become a resident in the Cox Family Medicine Residency program in Springfield, Missouri. He is currently in his last year of residency, to be completed in summer 2020.
"I am excited to continue my career back in my old stomping grounds of northwest Kansas," Dr. Gaede said.
Dr. Gaede, along with his wife, Kim, will be making the move to Norton with their strapping young son, Elliott, and additional child, as the couple is expecting another baby in December. Dr. Gaede said spending time with his family is at the top of the list of things he enjoys in his free time, but he also enjoys working out – especially weight training, woodworking, playing the piano, playing any kind of sport, and last but certainly not least, brewing beer.
Dr. Miranda McKellar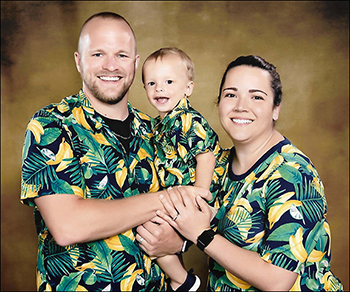 Miranda McKellar, MD, is originally from Sycamore, Kansas, which is located in the southeastern part of the state. She graduated as valedictorian from Neodesha High School in 2009. During high school, Dr. McKellar began working for a rural family physician, Dr. Bert Chronister, in Neodesha. This started her passion for full-scope family medicine that includes working with babies to those patients at end of life.
Following high school, Dr. McKellar attended the University of Kansas, where she cheered on the Jayhawks as she received her bachelor's degree in genetics. During her undergraduate career, Dr. McKellar continued to pursue her interest in rural family medicine by participating in the Scholars in Rural Health program. This program allowed her to spend more than 200 hours shadowing Dr. Chronister and learning the inter-workings of a rural family medicine practice.
Through the Scholars in Rural Health program, Dr. McKellar was accepted to the University of Kansas School of Medicine, Salina campus. She subsequently stayed in Salina at the Smoky Hill Family Medicine Residency program to finish her medical education and training, and she will complete her final year of residency in summer 2020.
While in residency, Dr. McKellar discovered a passion for women's health, full-scope obstetric care, diabetes management and wound care. She also enjoys procedural medicine both in the clinic and in the operating room. She plans to bring her medical passions to Norton County Hospital to help patients.
"I had the pleasure of attending medical school in Salina with two individuals who would come to be great friends and eventual colleagues, Dr. Neill and Dr. Gaede," Dr. McKellar said. "After a visit to the hospital and tour of the town, it was evident that Norton is a great place to raise a family, be involved in the community and be a part of expanding the medical services at NCH."
In her spare time, Dr. McKellar enjoys spending time with family, including her four pets (three cats named Doris, Ethel and Bobbi, and one dog named Minnie), spending time outdoors, hiking, fishing, hunting and photography. Dr. McKellar, her husband Ian, and their rambunctious 2-year-old son, Sawyer, said they are elated to be joining the community of Norton.
Dr. Theresia Neill
Theresia Neill, MD, grew up on a dairy farm near Severy, Kansas, which is straight east of Wichita in Greenwood County. She graduated from Butler Community College, then cheered on the Wildcats while receiving a dual bachelor's degree from Kansas State University in human nutrition and kinesiology, with a secondary major in gerontology.
She obtained her medical degree at the University of Kansas School of Medicine in Salina, where she currently lives with her husband, Tate, while completing her residency through the Smoky Hill Family Medicine Residency program. She will complete her residency in summer 2020. Dr. Neill's primary medical interests are women and children's health, as well as obstetrics.
In her spare time, Dr. Neill said she enjoys doing many house and yard projects (much to her husband's dismay), cooking and baking, cycling, traveling and spending time in the Colorado outdoors with her sister.
She and Tate have two dogs, Lucy and Leo, and a cat, Boots, who provide a constant source of entertainment. Dr. Neill said her greatest goal is to be able to keep up with the daily sweeping from the hair off of her Labrador Retriever.
The Neills are expecting their first child very soon. The couple looks forward to putting down roots in Norton.
"We are looking forward to moving back to a rural community to raise our family and allow me to practice full-scope family medicine," Dr. Neill said.
More information
Stay up-to-date with more information about these physicians, Norton County Hospital and Norton Medical Clinic at www.ntcohosp.com, or find the hospital and clinic on Facebook.
###