Three new physicians to join Norton County Hospital
August 16, 2019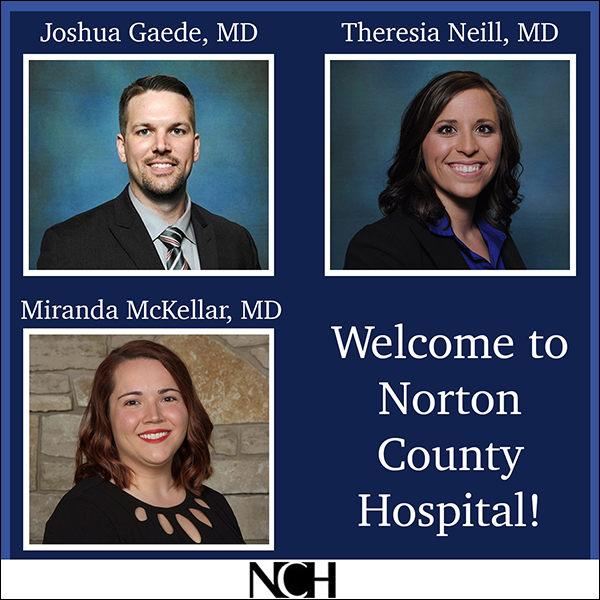 NORTON, Kan. – Three physicians have signed contracts with Norton County Hospital and will begin employment in summer 2020. The contracts were formally approved at a special meeting of the hospital's Board of Trustees on Friday, Aug. 16.
All three physicians are family practice and obstetrics providers. This means the hospital will bring back its labor and delivery program with the onboarding of these new physicians. The three physicians are also native rural Kansans.
Joshua Gaede, MD, is originally from Hoxie, Kansas. He is currently a resident in the Cox Family Medicine Residency program in Springfield, Missouri.
Miranda McKellar, MD, was raised in Sycamore, Kansas. She is currently a resident in the Smoky Hill Family Residency Program in Salina, Kansas.
Theresia Neill, MD, grew up in Severy, Kansas. She is currently a resident in the Smoky Hill Family Residency Program in Salina, Kansas.
All three physicians attended the University of Kansas School of Medicine on the Salina campus, which was created to address the critical shortage of physicians in rural areas, according to the university's website. After completing medical school, they moved on to their respective residency programs and are in the class of 2020. They will move to Norton with their families within the next year.
"We are thrilled to officially welcome Dr. Gaede, Dr. McKellar and Dr. Neill to Norton County Hospital," said Gina Frack, the hospital's CEO. "We know they will do great things in Norton and provide our patients with wonderful and compassionate care. We look forward to having their expertise and adding new medical services with them and our current providers – Dr. Glenda Maurer, Jonna Inman and Kristin Vogel. I also can't thank our current providers enough for all they have done and continue to do to ensure quality patient care even when we've been short-staffed. It truly takes a team."
While the hospital has been recruiting for more permanent physicians, it has worked with several entities to have provider coverage in the Emergency department and to assist in the clinic. This will continue to happen while awaiting the arrival of the three newly signed physicians. Frack said the hospital has worked diligently to ensure that patient needs are met during this time of transition and has been fortunate to have several exceptional providers work on a locum, or temporary, basis.
Norton County Hospital and Norton Medical Clinic administration, staff, and board members welcome Dr. Gaede, Dr. McKellar, and Dr. Neill, and look forward to working with each of them. More information about each new physician will be announced in the near future.
###
Bios about each physician are included in a follow-up release.